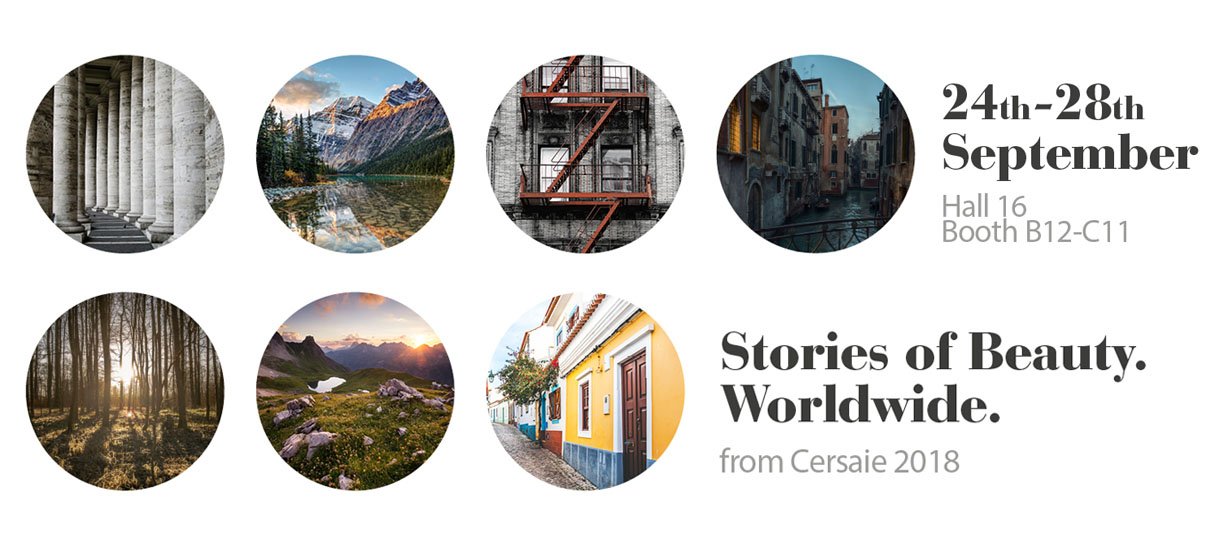 Cersaie 2018
24-28 September
Bologna, Fiera
Pad 16 Stand B12-C11
At Cersaie 2018, Ceramica Sant'Agostino showcases Beauty as an environment, as a "human habitat" created for private everyday life, through windows that overlook views of natural or urban landscapes , artistic or folk landscapes or scenes of real life, in some places of the World and in some moments of Time.
From this concept, 7 new collections are developed, each representing also symbolically each of these territories, as if it were a declaration of poetics and a tribute to their space-time and historical-cultural origins.
These collections are made by taking inspiration, interpreting and processing porcelain with different materials such as wood, majolica, marble and stone, and they are developed from the sizes belonging to The Great Beauty programme 120x120, 90x180, 90x150 and 30x180 up to small tiles in 20x20 and to the mosaic with 5x5 pieces.
They are available in various surface finishes (natural, polished, mirror polished, non-slip) , with matching special decorative elements and special pieces, allowing to meet every type of design requirement from both an aesthetic and technical point of view, thus being functional for design furniture in residential, commercial or public environments.
With LAKEWOOD, NEWDECÒ, OXIDART, PRIMESTONE, VIA APPIA, VITA and WAYSTONE Ceramica Sant'Agostino wants to recall at the first glance and every day of our life all the indelible beauty of places and moments of our journey, really lived, or even just dreamed of.
Follow the official hashtag:
#StoriesOfBeautyWorldwide
#Cersaie2018
#WorldEvents
#StoriesOfBeauty
#AgostinoLover
---
The Sound of Design

24-28 settembre
Bologna, Fiera
Pad 30

26-29 settembre
9:30 - 20:00
Bologna, Galleria Cavour

We will participate, as a sponsor company, in The Sound of Design, the Cersaie event show, managed by Davide Vercelli and Angelo Dall'Aglio: an emotional and creative journey, sorrounded by in an ideal 1976-1983 soundtrack, between Music and Design , with leading companies in the world of design among which, precisely, Ceramica Sant'Agostino, with its own collections Blendart and Patchwork Colors.